Tasty Breakfast Recipe Ideas
Tasty Breakfast recipes, the building block of the day and not to be missed!
The Life-Changing Loaf of Bread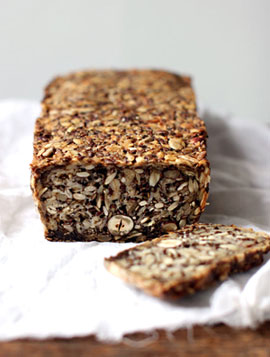 Ingredients: (Makes 1 loaf)
1 cup / 135g sunflower seeds
½ cup / 90g flax seeds
½ cup / 65g hazelnuts or almonds
1 ½ cups / 145g rolled oats
2 Tbsp. chia seeds
4 Tbsp. psyllium seed husks (3
tbsp. if using psyllium husk
powder)
1 tsp. fine grain sea salt (add ½
sp. if using coarse salt)
1 Tbsp. maple syrup (for sugar-free diets, use a pinch of stevia)
3 Tbsp. melted coconut oil or ghee
1 ½ cups / 350ml water
Directions:
In a flexible, silicon loaf pan combine all dry ingredients, stirring well. Whisk maple syrup, oil and water together in a measuring cup. Add this to the dry ingredients and mix very well until everything is completely soaked and the dough becomes very thick (if the dough is too thick to stir. – Add one or two teaspoons of water until the dough is manageable). Smooth out the top with the back of a spoon. Let sit out on the counter for at least 2 hours, or all day or overnight. To ensure the dough is ready, it should retain its shape even when you pull the sides of the loaf pan away from it.
Preheat the oven to 350°F / 175°C.
Place loaf pan in the oven on the middle rack, and bake for 20 minutes. Remove bread from the rack and bake for another 30-40 minutes. Bread is done when it sounds hollow when tapped. Let cool completely before slicing (difficult, but important).
Store bread in a tightly sealed container for up to five days. Freezes well too – slice before freezing for quick and easy toast!
Or Pre-Order with Tara Canning Nutritionist|Masterchef
Call 087 9074701 or drop me a quick message on my contact page.
€10 Wheat Free 1lb loaf/Gluten-Free €11.50
Wheat Free Muesli
Breakfast Recipe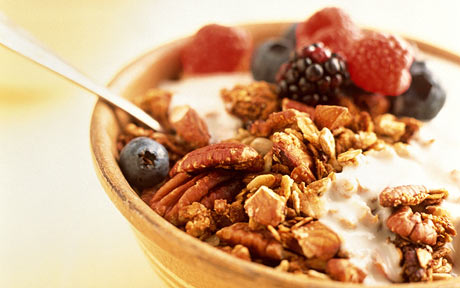 Ingredients:
Brown Rice Flakes

Quinoa Flakes

Oat Flakes

Spelt Flakes

Pumpkin seeds/Sunflower Seeds

Linseeds/flaxseeds

Pecan/hazel/brazil/almond nuts…

Gogi Berries/Dried Cranberries

Unsulphured Apricots

Raisins or Sultanas
Directions:
Over a low heat toast the flakes in a heavy pan or in the oven mixing every few minutes to avoid burning the bottom.

After 10 minutes add the nuts and seeds and mix again. Toast for a further 5 minutes.

Turn off the heat and when cool add in the dried fruits. Mix when cold and store in an airtight container.
Coeliac/Gluten intolerance avoid – Wheat, oats, rye, barley.
Wheat Intolerance – Avoid wheat products eg. wheat germ wheat grains, and wheat bran.
Warm Prunes with Yogurt and Orange Zest Breakfast Recipe
Ingredients:
250g Stoned Dried Prunes

250g Pure Orange Juice

1 large Orange

2 tbsp soya/bio yoghurt
Directions:
Place the prunes and orange juice in a pan and leave to soak for 30 minutes. Bring to the boil, then reduce the heat, cover and cook for approximately 20 minutes.

Meanwhile, thinly peel the zest from the orange and cut it into fine shreds- you will need 2 tablespoons.

Spoon the cooked prunes into individual bowls, add ½ tablespoon of the yoghurt to each one and sprinkle with orange zest and serve.

 
Making The Perfect Omelette
Gluten & Egg Free fruit Cookies
The greatness of this recipe is it takes 10 minutes to make and uses up those black, mushy bananas lurking in the fruit basket!The mashed banana acts as a raising agent along with the baking powder to compensate for egg eliminations…
Ingredients:
1 medium eating apple grated*
1 cup buckwheat or quinoa flakes
½ cup mashed banana
2 tsp. GF baking powder
1 tsp. ground cinnamon
1 tsp. Maca powder
20g raisins(optional)
Directions:
Preheat oven to 350F/180C.
Mix everything into the mashed banana (I like to leave the skin on the apple).
Make 16 cookies out of the mixture by spooning onto a tray lined with baking parchment.
Bake for 12 minutes or until golden and best eaten on the day.
*You could use a grated carrot or even parsnip instead.