Some Healthy And Tasty Dinner Recipes
When you are trying to cook healthier dinner recipes. Whether you are a novice or foodie always cook within your abilities, time frame and what is available to eat. Cooking under stress does not encourage anyone and in turn, you don't stimulate your digestive juices in a stressed state.
The lead up to your meal is as important as the meal itself to encourage enzymes to be secreted from the mouth down to the lower stomach. And always be aware of your food, don't rush and chew properly.
Spanish Fish Stew Dinner Recipe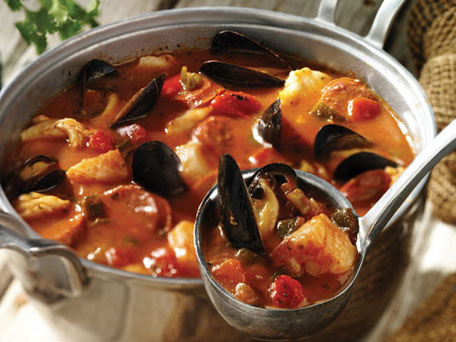 This hearty vibrant stew is very popular with my cookery class students. You can change the type of fish you use depending on availability and taste. Served with some brown rice or baked sweet potato adds even more minerals and vitamins to the nutrition bank!
Ingredients:
White Fish eg. Hake, Cod, Pollack
10 Mussels
1 Salmon Darne 0r 2 fillets sea bass or bream
25ml Olive Oil
1 Spanish Onion
1 Potato Diced ½ bulb Fennel sliced
3 Cloves Garlic chopped
1 small Glass White
Wine (optional)
1 tsp Sherry Vinegar
1 tsp Saffron Strands (don't worry if you don't have them just leave it out…)
1 tsp Paprika(sweet)
2 bay leaves
1 tin Chopped Org. Tomatoes
1 piece Dillisk
Herbamare/Ground Black Pepper
Zest 1 orange
What To Do:
In a heavy saucepan heat the olive oil. Add the potato, onion, fennel and cook for 15 minutes without colouring over low heat.
Add wine and cookout for a further 5 minutes. Add tomatoes, garlic, saffron, paprika, bay leaves, sherry vinegar, dillisk, orange zest, season with herbamare and black pepper and simmer for 10 minutes.
Place all fish except for mussels in the sauce.
The lid on and simmer for 5 minutes.
Finish with shellfish and last 5 minutes of cooking.
Squeeze some lemon juice over the dish and serve
Grilled Lemon And Oregano Chicken With Quinoa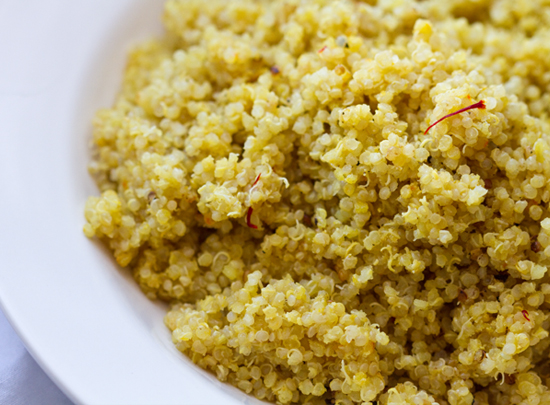 Quinoa is a gluten-free grain, originally cultivated in South America that is very high in protein, iron and fibre. The good news is that it cooks in less than 15 minutes which is great if you are in a hurry so you can put this recipe together in less than 20 minutes!
Ingredients:
2 Free Range chicken breasts
Juice of 1 lemon
1 tsp dried oregano
1 tbsp Olive oil
Ground Black pepper/sea salt
1 cup Quinoa
2 cups vegetable stock or carrot juice
1 clove garlic
What To Do:
Butterfly out the chicken breasts and place in an ovenproof dish.
Mix the lemon juice, oregano, oil and seasoning together and pour over chicken 10 minutes before grilling.
Bring quinoa to the boil and simmer for 12 minutes in the stock or juice.
Strain and keep warm.
Meanwhile, grill the marinated chicken on both sides and serve over quinoa.
Pour cooking juices over the meat and serve.
Best served with a nice green salad or steamed green.
*Try these delicious and healthy dinner recipes and make the change today!
Sausage & Chickpea Casserole
*Picture on my Twitter page! @CanningTaraM
A big family favourite in our house-especially on busy school days. Just cook it all in one pan and serve!
Ingredients:
6 good quality sausages (turkey, pork, beef, vegetarian…)
1 medium onion chopped
1 clove of garlic chopped
1 carrot peeled & chopped
1 stick celery sliced
½ tsp smoked paprika
¼ tsp thyme
1 chilli(leave seeds in for extra heat if you want)
1 cup brown basmati rice
1 cup cooked chickpeas
1 carton passata sauce/tin chopped tomatoes
1 tbsp olive oil
Sea Salt/Ground Black pepper
What To Do:
Heat a heavy pan with oil and fry off your sausages on all sides-I like to cut them into 1" pieces. Turn down the heat and add vegetables and cook for 5 minutes.
Add your paprika, thyme and chilli and cook for a further 2 minutes.
Then add washed rice and coat in all the flavour and pan juices.
Next, add your passata and a cup of water and mix through.
After 10 minutes add the chickpeas, seasoning and more water if drying out.
Place a lid on the pan and stir every 5 minutes. Add a little more water if needed.
The dish is cooked when the rice is tender – 40 minutes should do it.
Serve hot with lots of fresh greens or cold in your lunchbox the next day.