Ingredients – Store Cupboard Essentials
When you make the decision to make simple changes to your diet take it step by step. Try to commit 1-2 hours per week to shop properly. Start by stocking your cupboard with some essential food ingredients from the lists below.
Then you only have to shop for your fresh produce 1-2 times a week.
Get to know your local health food store.. Staff are always trained, approachable and willing to help within budgets and needs.
You will find all kinds of whole grains (muesli, pastas, rice, breads, oat cakes), nuts and seeds in all the health stores nationwide.
Nowadays all the major supermarkets have well stocked health food aisles with a lot of the basics at very affordable prices too.
Farmers markets are ideal for local fresh eggs, vegetables, fruit, fish, breads, honey etc. A lot of these food ingredients are organic and because they have traveled so little are very fresh and supporting the local economy, which is always good. You often find if you build up a rapport with certain farmers and suppliers you will get even better service and prices.
The spice of life!
Ancient civilisations stretching from the South Americas to the Eskimoes and across the oceans to the Maori tribes of New Zealand have used herbs and spices to not only flavour their food but use the medicinal values to enhance their lives.
Here are my top ten food ingredients, herbs and spices for your cupboard:
Herb or Spice Uses
1. Turmeric Curries,potatoes,rice, scrambled eggs
2. Black Pepper Helps the digestion of turmeric, salt and adds spice
3. Sea Salt Enhances flavour in very small doses!
4. Thyme Great overall herb for soups, stews etc.
5. Oregano To add an Italian/greek twist to your dishes
6. Paprika Whether sweet or spicy adds great spicy or spanish flavour
7. Ground Cinnamon Sweet dishes and savoury
8. Ground Ginger The spicy stomach relaxant adds a warming taste
9. Basil Italian and French cooking-even Thai
10. Rosemary For the meaty, earthy dishes
There are so many more….
Lets go shopping for some more food ingredients!
Cupboard Fresh

Porridge Fruit: Apples, Mandarins, Pears, Bananas, Mango, Kiwis, Pineapple, berries in season

Sugar Free Muesli Vegetables: Sweet potatoes, carrots, onions, garlic, leeks, broccoli, fennel, salad leaves, spring onions, tomatoes, peppers, avocado, mushrooms, spinach.

Oatcakes Meat: Chicken, turkey, beef-all organic

Rye Crackers or Corn Crackers Oily Fish

Brown Rice Organic Wholemeal Bread

Quinoa Organic Eggs

Buckwheat noodles Live Yoghurt

Wholemeal pasta Organic full fat milk

Puy or red lentils Tins of chickpeas or butterbeans

Unsalted/unroasted nuts & seeds

Dried Fruit Freezer

Tinned pineapple chunks Frozen vegetables

Tins of tuna, salmon, sardines King prawns

Tins of organic soup Un-breaded fish

Tins of organic tomatoes Organic chicken breasts

Olive oil, Rapeseed oil Mixed berries

Balsamic Vinegar

Tomato Puree

Nut butters

Sugar Free Baked Beans

Jars of healthy brand Italian & Thai sauces

Herbal teas

Pear & apple fruit spread

Dark Tahini

Herbamare

Sugar Free Jam

71% dark chocolate
The most important rule of food ingredients is stay with your budget and only do it when you have the time!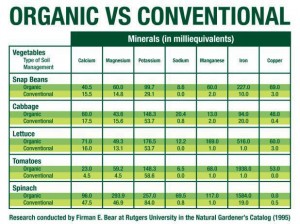 Source : http://ecochildsplay.com/2012/03/15/organic-vs-conventional-is-the-proof-is-in-the-nutrition/